Booking
Mobile Home
3 Bedrooms
Mobile Home
2 Bedrooms
Campsite
French Riviera
Links

Saint-Tropez!
The seaside resort town Saint Tropez is still very popular with the tourists, although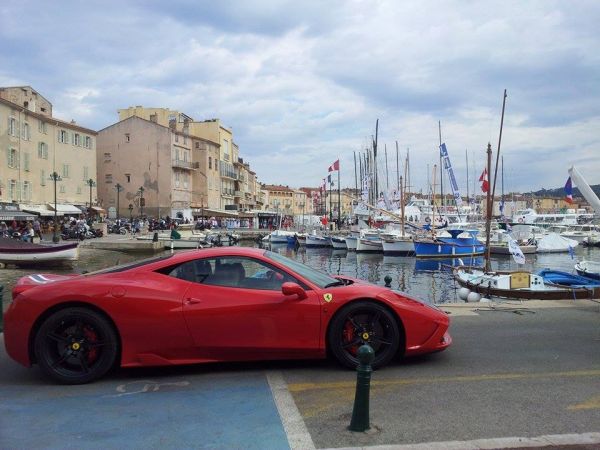 the jetset and the in-crowd have long since left it behind. Set on the lovely blue water of the Bay of Saint-Tropez, this modern version of a medieval town is most popular for the line of yachts along the quai, and the facing line of terrace cafés, divided by a parade of strolling tourists and slow cruising expensive cars.
Behind the cafés, the small streets and old buildings are picturesque, but they're more popular for the multitude of shops and restaurants than historical significance. There are endless possibilities for buying gifts or items of proof that "you've been here".
Movie stars and other famous pretty people do pass through, 'though not so frequently as yesteryear. The most famous, of course, are insconced in the fabulous private estates set along the coast, protected from the curious eyes of all but those with the means to rent helicopters and light aircraft. Our late Princess Diana, for example, did spend the night in a local discotheque this August (1997), but it was closed to all but her private party.
The town's Office de Tourisme, located along the center of the main drag, is very active. The multilingual staff is friendly and helpful, and they have their own Internet web site. Excellent maps and informational brochures are available 7 days a week.

Fête de la Bravade
A bravade (or "act of defiance"), originally a procession in honor of a town's patron saint, is now a colorful Provençal festival. The St Tropez bravade, every May, is one of the most famous, dating back to the 15th century. A bust of the patron saint is carried in a procession through the town with a guard of honor, with gun salvos, Provençal singing and dancing.
The surrounding area
The hills a bit away from St Tropez are fine, but the area immediately surrounding the town is pretty grim, and not pretty, especially in the summertime. The roads are lined with billboards, garish commerce and neon signs. During July and August, the route national N98 between St Tropez, Ste Maxime and almost to St Raphaël is a long narrow parking lot. As you sit in traffic, overheated, you have a view of other cars and trucks, pedestrians, people vainly trying to cross the road between campsites, cyclists, signs and hordes of other tourists.
>