Grimaud!
Grimaud is a Medieval perched village overlooking the bright blue bay of the Golfe de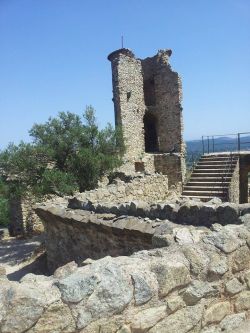 Saint Tropez, dominated by the striking ruins of the 11th-century chateau at the top. The village is situated at the Mediterranean edge of the Massif des Maures, forested hills that stretch southwest to Pierrefeu-du-Var and Hyères and northeast towards Frejus. The twisty D558 road that connects the Golfe de St Tropez with with the interior goes across the Maures past La Garde-Freinet, through forests of cork oak, chestnut and pine. The even smaller twisty D14 road goes west from Grimaud through the hills to Collobrières, passing near the Chartreuse de la Verne.
Grimaud's perched location gives it a marvelous view of the surrounding hills and the Golfe de St Tropez, a bay that was named the Golfe de Grimaud until the 17th century. Overlooking the pass through the center of the Maures put Grimaud in a strategic position through the Middle Ages.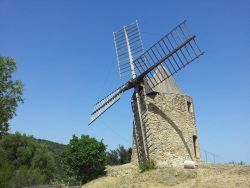 The interior of the village is neatly restored, but not overly so, in spite of its close proximity to the highly popular and wealthy area around Saint Tropez. Grimaud is actutally considered the richest village in the area, quite a claim considering the area, with the houses being bought by people of all nationalities for whom money is no problem. At least the commune doesn't have to beg for upkeep funding.
Some of the village houses are 15th and 16th century. Many of them have the ancient-style stone walls, and many others are restored with the bright pastel colors of Provence. On the Rue des Arcades is a 15th-c house called Templiers, with an historical facade and basement.
Several older door frames and lintels are made from large, polished slabs of stone, either black lava or the very dark-green serpentine, a stone that reminds us of the green "lauze" used in some of the Alpine villages, such as Tende.
A fair amount of green decorates balconies, tiny gardens and house fronts. Cactus is popular, but we saw a lot bougainvillier, much of it in flower during our recent visit mid-February.
The village is large enough to offer a good number of streets for wandering and exploring, including some Medieval-narrow and some low vaulted passages. The Office de Tourisme has a free pamplet with a walking tour of Grimaud, and there are corresponding plaques on the corners of buildings marking the tour route. A number of the village's old fountains are quite interesting; the one on Place Neuve dating from 1886.